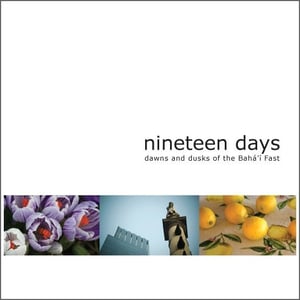 $

19.99
LIMITED EDITION.
SOLD OUT.
"… all things that have in themselves grace or beauty 
are pleasing to the heart and spirit…." --'Abdu'l-Bahá
 
nineteen days is an ongoing photographic collaboration designed to share moments of the dawns and dusks of the Bahá'í Fast, from Bahá'ís around the world.
 
Started in 2008, nineteen days was at first only an online project:
nineteendays.wordpress.com.
This year its creators have collected some of the photographs from the project's second year and compiled them into a book.
 
Filled with more than eighty full-color pictures, from a cup of tea at breakfast in America to a blazing sunset over an African capital, the original and intimate images of nineteen days offer the reader's eyes a visual feast, even as the Holy Writings of the Bahá'í Faith quoted on each day's spread provide sustenance to the soul.
 
nineteen days' quotations from the spiritual words of Bahá'u'lláh, the Báb, and 'Abdu'l-Bahá are accompanied by a beautiful ensemble of photographs that have been chosen to rejoice the heart and give pleasure to the spirit as the reader journeys through the mindful and refreshing days of the Fast.